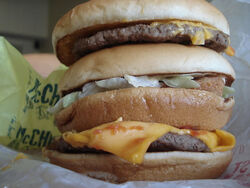 Arguably the most notorious Secret Menu item in recent memory,[1] a McGangBang is a secret menu sandwich available at McDonald's. It consists of a McDouble with a whole McChicken in place of the middle slice of bread found on a traditional Big Mac.
How to order
Edit
Ask for a McDoubble and a McChicken. Put the McChicken in the middle of the McDouble.
↑ The Land, Sea, and Air vies for the same title.